Chicken and Sun-Dried Tomato Bruschetta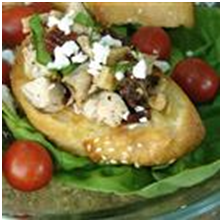 Marinated chicken, spinach, feta, and sun-dried tomatoes are tossed with dressing and served on grilled or toasted slices of focaccia bread.
Categories:
Ingredients
2 skinless, boneless chicken breast
halves
1 1/4 cups Italian salad dressing, divided
4 cups fresh spinach, torn
1/3 cup crumbled feta cheese
8 sun-dried tomatoes, packed without oil,
chopped
1 (1 pound) loaf focaccia bread, cut into
1/2-inch thick slices
1/4 cup olive oil
Directions
1.Place the chicken and 1 cup salad dressing in a bowl. Cover, and marinate at least 3 hours in the refrigerator.
2.Preheat the grill for high heat.
3.Lightly oil the grill grate. Discard dressing used for marinating, and grill chicken 7 minutes per side, or until juices run clear. Cool and shred.
4.In a large bowl, mix the cooked chicken, spinach, feta cheese, sun-dried tomatoes, and remaining dressing.
5.Brush the focaccia bread with olive oil, and cook 1 minute per side on the prepared grill, or until lightly toasted. Place portions of the chicken mixture on the toasted focaccia to serve.
Nutritional Information
Servings Per Recipe: 8 ,Amount Per Serving :,Calories: 389 , :, Total Fat:0.784 oz , Cholesterol:0.014 grain , Sodium:0.611 grain , Total Carbs:1.211 oz , Dietary Fiber:0.074 oz , Protein:0.477 oz ,:,