Brunch Egg Bake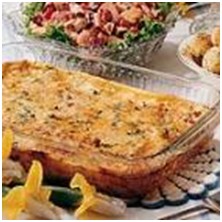 An easy, tasty dish to make for company that still allows you to spend plenty of time with your guests. This one dish combines all the best bits of breakfast.
Categories:
Ingredients
3 cups shredded Cheddar cheese
3 cups shredded mozzarella cheese
1 (4.5 ounce) jar sliced mushrooms,
drained
1/3 cup sliced green onions
1/2 cup chopped sweet red pepper
2 tablespoons butter or margarine
2 cups diced fully cooked ham
8 eggs
1 3/4 cups milk
1/2 cup all-purpose flour
2 tablespoons minced fresh parsley
1/2 teaspoon dried basil
1/2 teaspoon salt
1/4 teaspoon pepper
Directions
1.Combine cheeses; place 3 cups in an ungreased 13-in. x 9-in. x 2-in. baking dish and set aside. In a medium skillet, saute mushrooms, onions and red pepper in butter until tender; drain. Place over cheese; top with ham. Sprinkle with remaining cheese. In a bowl, beat eggs. Add milk, flour, parsley, basil, salt and pepper; mix well. Slowly pour over the cheese. Bake at 350 degrees F for 35-40 minutes or until a knife inserted near the center comes out clean. Let stand 10 minutes before cutting.
Nutritional Information
N/A:,