Easy Sausage Strata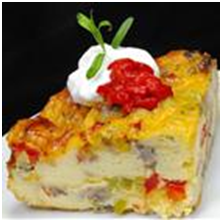 This layered breakfast casserole has cheese, eggs, and a whole lot of hearty goodness.
Categories:
Ingredients
1 pound pork sausage
6 (1 ounce) slices bread, cubed
2 cups shredded Cheddar cheese
6 eggs
2 cups milk
1 teaspoon salt
1 teaspoon ground dry mustard
Directions
1.Place sausage in a large, deep skillet. Cook over medium-high heat until evenly brown. Drain, and set aside.
2.Layer bread cubes, sausage, and Cheddar cheese in a lightly greased 7x11 inch baking dish. In a bowl, beat together the eggs, milk, salt, and mustard. Pour the egg mixture over the bread cube mixture. Cover, and refrigerate at least 8 hours or overnight.
3.Remove the casserole from the refrigerator 30 minutes before baking. Preheat oven to 350 degrees F (175 degrees C).
4.Bake 50 to 60 minutes in the preheated oven, or until a knife inserted in the center comes out clean. Let stand 10 minutes before serving.
Nutritional Information
Servings Per Recipe: 8 ,Calories:14.155 oz ,Total Fat:0.964 oz ,Cholesterol:0.123 grain ,Sodium:0.65 grain ,Total Carbs:0.522 oz ,Dietary Fiber:0.018 oz ,Protein:0.819 oz ,:,