Chili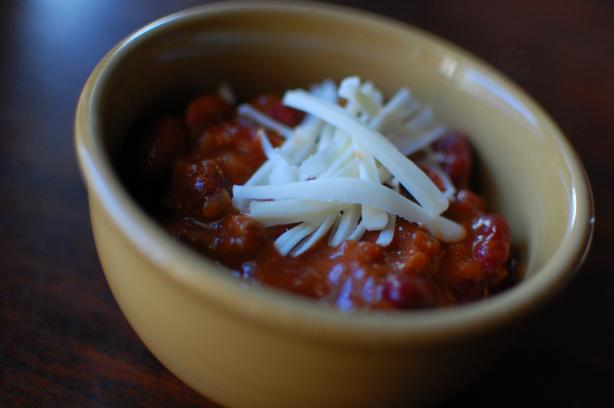 A tasty chili recipe full of flavor. You can control the amount of spice you add.
Categories:
Ingredients
2 teaspoons oil
2 onions, chopped
3 cloves garlic, minced
1 lb lean ground beef
3/4 lb beef sirloin, cubed
1 (14 1/2 ounce) cans diced tomatoes
1 can dark beer
1 cup strong coffee
2 (6 ounce) cans tomato paste
1 can beef broth
1/2 cup brown sugar
3 1/2 tablespoons chili sauce
1 tablespoon cumin
1 tablespoon cocoa
1 teaspoon oregano
1 teaspoon cayenne
1 teaspoon coriander
1 teaspoon salt
4 (15 ounce) cans kidney beans
4 chili peppers, chopped
Directions
1.Heat oil.
2.Cook onions, garlic and meat until brown.
3.Add tomatoes, beer, coffee, tomato paste and beef broth.
4.Add spices Stir in 2 cans of kidney beans and peppers.
5.Reduce heat and simmer for 1 1/2 hours.
6.Add 2 remaining cans of kidney beans and simmer for another 30 minutes.
Nutritional Information
Serving Size: 1 (610 g) ,Servings Per Recipe: 6 ,Amount Per Serving :,Calories 705.7 :, :,Calories from Fat 171 :,Total Fat 19.1g :,Saturated Fat 6.7g :,Cholesterol 91.6mg :,Sugars 36.0 g :,Sodium 2178.4mg :,Total Carbohydrate 84.3g :,Dietary Fiber 20.2g :,Sugars 36.0 g :,Protein 47.3g:,