Delicious Vegan Hot Chocolate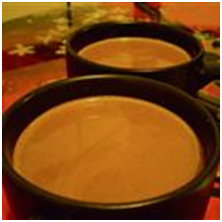 Finally, a vegan hot chocolate recipe that actually tastes good! For best results, use plain soy milk.
Categories:
Ingredients
2 1/2 cups soy milk
3 tablespoons white sugar
3 tablespoons cocoa powder
1/2 teaspoon salt
1/2 teaspoon vanilla extract
1 pinch ground cinnamon
1 pinch cayenne pepper
Directions
1.Bring the soy milk, sugar, cocoa powder, salt, vanilla extract, cinnamon, and cayenne pepper to a simmer in a saucepan over medium-high heat. Remove from the heat and whisk until frothy. Serve immediately.
Nutritional Information
Servings Per Recipe: 2 ,Amount Per Serving :,Calories: 259 ,Total Fat:0.226 oz ,Cholesterol:0 grain ,Sodium:0.401 grain ,Total Carbs:1.514 oz ,Dietary Fiber:0.159 oz ,Protein:0.402 oz ,:,